"'Hit homers,'" was the advice passed on from Vladimir Guerrero Sr. to his son ahead of the 2023 MLB Home Run Derby.
The HR Derby has become one of the most highly anticipated events on the baseball calendar where eight of the MLB's biggest sluggers go head-to-head to see who can crush the most homers.
Competitors are seeded based on their total home runs so far this season and put into a bracket with the No. 1 seed taking on the No. 8 seed, the No. 2 facing the No. 7 and so on.
The hitters have three minutes in the opening two rounds and two minutes in the final to hit as many homers as possible from a pitcher of their choice.
Guerrero Sr. was the winner of the competition in 2007 and the Toronto Blue Jays star was looking to follow in his dad's footsteps – hoping to become the first father-son duo to win the prestigious competition hosted during the All-Star break.
It is safe to say that Guerrero Jr. followed his father's advice to the letter as he smashed it out of the park – and then some.
Guerrero Jr. walked away with the prize after beating Randy Arozarena of the Tampa Bay Rays 25-23 in the final after an exhilarating evening of slugging.
The Blue Jays first baseman squared up against Mookie Betts in the first round. Guerrero Jr. eased past the LA Dodgers right fielder with a comfortable 26-11 victory.
Julio Rodríguez was up next. The Seattle Mariners star had broken Guerrero Jr.'s single-round record from 2019 with an incredible 41 home runs in his first-round clash against Pete Alonso.
In the round two thriller, Guerrero Jr. beat Rodríguez by the slightest of margins, 21-20. The 24-year-old levelled Rodríguez's tally in the dying seconds before hitting the winning homer in bonus time.
Arozarena then stood in the way of Guerrero Jr. making history, but the three-time All-Star did enough to replicate his father and get his hands on the trophy.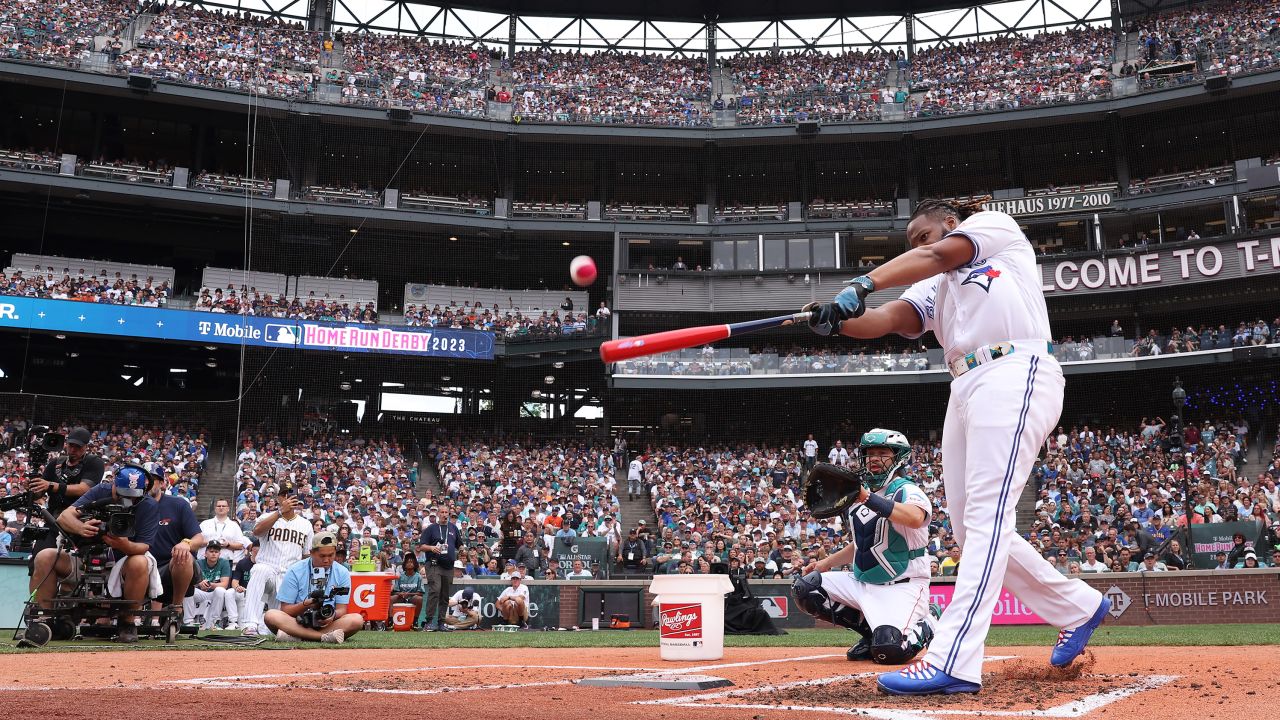 Guerrero Sr. and Guerrero Jr. (pictured) are now the first father-son duo to win the Derby.
Steph Chambers/Getty Images
"To be honest, I don't remember much about 2007," Guerrero Jr., said on his dad's win, per MLB.com. "But I feel great, very happy, very proud that my father and I both won the Derby."
The winner of the 2023 HR Derby was then asked who would win a classic matchup between himself and his dad.
"If it's for time, with the [clock], I'll win. If it's by outs, he'll win," Guerrero Jr. diplomatically answered.
The All-Star break continues with the main event, the All-Star game, on Tuesday.